Applicant Tracking System to collect application and track recruiting progress
Cloud-based Applicant Tracking System, allows you to receive job application, track candidates, manage resumes and schedule interviews.
Sign up today
Learn more...
Get job applicants from multiple job boards
Collect enough volume of applicants is critical for making a great hire. Often, you need to post the job to many job boards. Tracking all the applicants from those job boards is a huge pain. You would wish to have a tool to consolidate them into a central place, then screen them and interview them, and monitor all the recruitment process.
Our system can take the load off you by collecting all the application resumes into our system, where you can track all the applicants: screening and organizing interviews for them, and monitor the volume of applicants each and every day.
But how do we achieve this? We give each job opening a unique email address for receiving application resumes. Every resume received get parsed and become an applicant record in our system. We also detect duplicate application for you.
Applicant tracking integrated with candidate management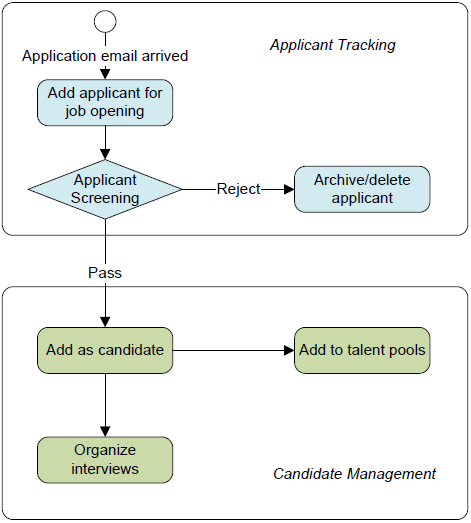 The applicant tracking workflow is triggered by email listening. Each job opening can be associated with a unique email address. And each mail sent to the mail address, either from job/resume boards(Monster.com, Hotjobs, CareerBuilder, Indeed.com), or sent by applicants themselves, would create an applicant record in the system, which would be tracked and managed in our recruitment system.
The applicant tracking workflow can be demonstrated as:
Create a job opening in our system;
Automatically our system will assign an recruiting email address;
Every email sent to the address creates an applicant for the opening;
Then, the Applicants can be screened: "Rejected" if not qualified at all, or "Passed" if qualified;
Applicants passed become candidates for the opening and take interviews.
Once applicants passed the preliminary screening, they will be added as candidates for job openings, when they will be assigned interviewers and get interviewed.
Receive applicant resumes without job boards
Out system provides each job opening you created a public page where you can direct your potential candidates to apply the position on this page.
No need for registration and sign in, applicants just fill in all the information and click the submit button. That is all.
Worry about the spam application? Simple, you can always choose to close the job opening, then all the application to the job opening won't bother you anymore.
Although this feature can't compare to the huge commercial job boards, it is very convenient and useful for small scale recruitment activities such as campus recruiting.
How to find out the public url for the job position? View the bottom of the job opening detail page, there is a button named 'View job posting', click the button, you will be redirect to the hiring page for the job opening.
The Difference between Applicants and Candidates
Although applicants and candidates are often used interchangeably, they are different when talking with human resources recruiters.
In our recruitment system, applicants in our system are job seekers who have "applied" for your job opening. They have either sent a resume to you or completed an application – online or in person. You might have 300 applicants for a particular job opening.
Candidates on the other hand are applicants that you have screened and deem minimally qualified for the job opening. They are contenders for the opening; these are the folks that you will interview by phone or in person or have some other form of contact to learn more about their qualifications. Out of an applicant pool of 300, you might only identify 15 candidates.
Candidates can also be added into the system directly by inputting their information and uploading their resumes. It would be especially useful when sourcing passive candidates.
Also, in our talent management system, all the candidates you screened from applicants or input directly are put into talent pools automatically. So later, you can review all the interview histories and keep in touch with all these candidates, especially for those with high potentials.
Recruiting process
Learn more about candidate management