Integrated Recruitment Information Center
From resume management to applicant tracking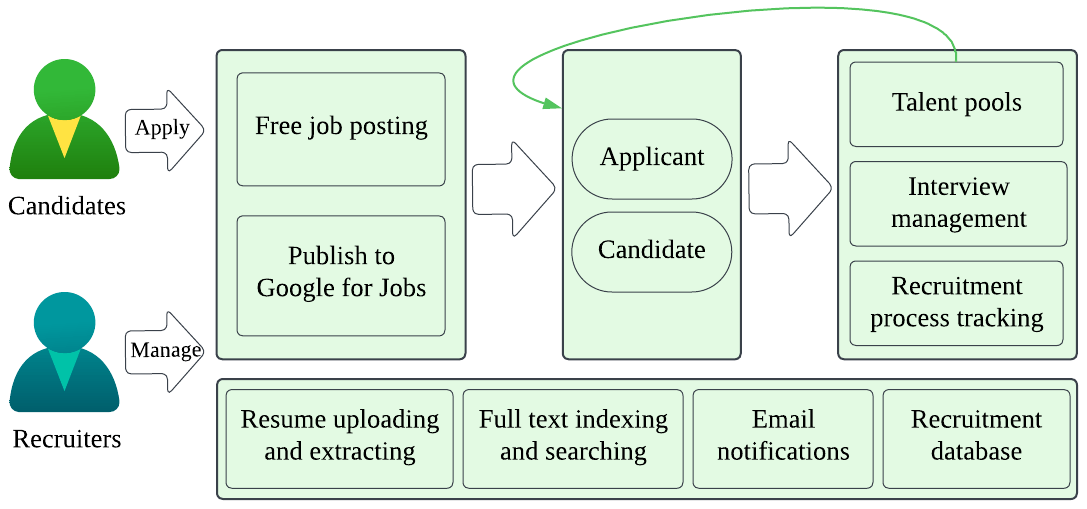 Flexible resume management and full text searching
Organize resumes by folders;
Allow comments to resumes;
Multiple resumes for one applicant/candidate;
Parse resumes automatically;
Powerful full text search engine.
Try it for free
Demo and screenshots
Automatic email notification to speed up the recruitment process
TalentLists Recruitment Management System provides in-time email notifications for all your recruitment process and tasks, such as:
Notify interviewer when he or she was assigned to a candidate;
Notify job opening owner when a candidate passed an interview;
Notify job opening owner when the hiring progress of a candidate was stuck;
Notify job opening owner when a new candidate was added for a job opening, so he or she can review and assign interviewers.
Sign up now
Learn more about the recruitment process
Duplicate application detection
TalentLists Recruiting Software provides a unique email address for each job opening you created, which can be used to automatically receive application emails from talent portals. And the system will extract contact information such as phone number, gender, email address, applicant's age and resumes.
The system will also detect the duplicate applications by the applicants' email addresses. This feature would help our customers to save a lot of effort when they face a high volume of applications and resumes.
Get started today
Getting started guide
Locate the 'stuck' candidates easily
Manage talent pools by skills and competencies
Do you need to build talent pools? It depends!
First, you don't have to build talent pools for every job position. If the job doesn't require much skills and experiences, you can always find enough workforce from the talent market. Then it would waste time to build a talent pool for it.
But if the position DOES need a lot of skills and experiences, it then would be very difficult for you to find many quanlified candidates in a short time. In this case, build a talent pool helps.
But how do you manage talent pools? Just simply putting candidates into an excel sheet is not enough. You would need to evaluate their skill levels and keep update their status. Only by doing this, then, you get active talent communities instead of a list of names.
Try it for free
Demo and screenshots
Customize skill/competency hierarchy for your organization
Every company is different and needs different skills. The TalentLists system helps you create different skill types; and then you can evaluate the candidates/applicants by the skill hierarchy.
Having a customized skill hierarchy also helps organize job opening and talent pools. You can filter talent and candidates by skills, for example, 3-must-have and 3-optional-skills.
Free try for 3 month
Candidate management features
Centralized database for resumes, applicants, candidates, interviews, skills and all the recruitment activities
Powerful full text searching engine;
Build different talent pools for different positions;
Define the skill hierarchy for your company;
Complete tracking of the recruitment process, including time, location and operator for the following actions:

New candidate;
Interview Scheduled;
Interviewer changed;
Hire or not hire decision.
Cloud recruiting software with a clear and cost effective pricing model
Cloud-based - means that you don't have to buy hardware and software in order to install the software, nor you have to pay IT personnel to maintain and keep the system available, it also means you can access the system from everywhere. You can use all the recruiting features as soon as you sign up;
Real try-it-before-you-buy-it trial – a real trial where you can use the product in real life recruitment environment and preferably recruiting real people through it during the trial
No Lock-in contracts – most CLOUD-based products now come with no or very short contractual commitment – the last thing you want to know when you realize that you're not happy with your decision is that you have 2 years to go on your contract.
Clear Pricing Model - click here to get a completely clear pricing model of our service.
Sign up today
Plans & Pricing